ACEC-SC has established a new Emerging Leaders Board.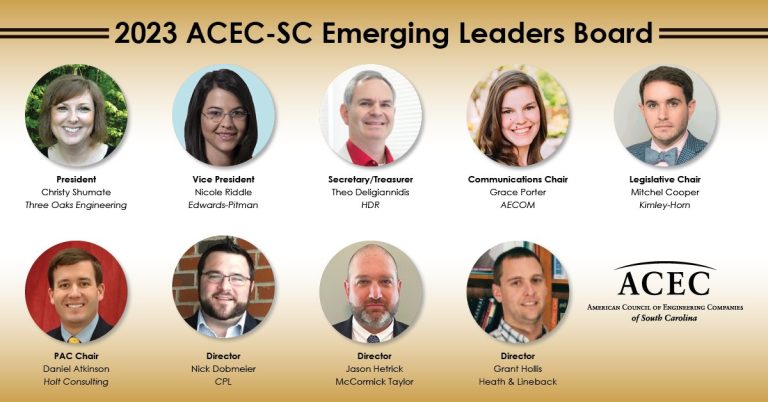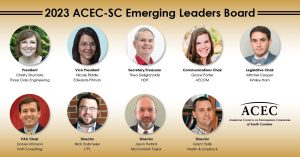 Emerging Leaders Board Responsibilities
Emerging Leaders Board (ELB) Members will help the ACEC-SC Executive Board of Directors execute ACEC-SC's strategic plans and mission.
ELB Members will:

Grow diversity within ACEC-SC and actively strive for inclusion of all member firms and persons.
Promote the industry among higher education and K-12 students to increase awareness and to communicate opportunities related to the industry and ACEC-SC.
Select an initiative each year in line with the strategic plan, define that initiative, and work toward it in conjunction with the ACEC-SC Executive Board of Directors.
Attend all called meetings to discuss engagement, improvements, and new ideas for ACEC-SC.
Participate in ACEC-SC committees, events, and volunteer engagements.
Represent ACEC-SC as Board Members conduct their daily business and encourage membership and participation to business associates in the industry.
The Six Main Priorities of the Emerging Leaders Board
Input & New Perspectives
Professional Development and Growth
Political Advocacy
Raising Brand Awareness
Socializing and Networking
Volunteering
Emerging Leaders Board of Directors
President: Christy Shumate, Three Oaks Engineering
Vice President: Nicole Riddle, Edwards-Pitman
Secretary/Treasurer: Theo Deligiannidis, HDR
Communications Chair: Grace Porter, AECOM
Legislative Chair: Mitchel Cooper, Kimley-Horn
PAC Chair: Daniel Atkinson, Holt Consulting
Director: Nick Dombeier, CPL
Director: Jason Hetrick, McCormick Taylor
Director: Grant Hollis, Heath & Lineback