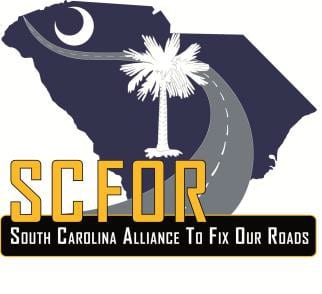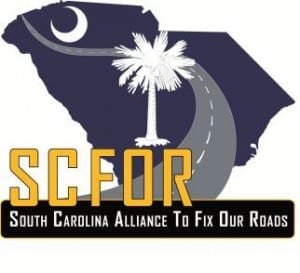 The South Carolina Alliance to Fix Our Roads is a non-partisan, non-profit, statewide organization made up of business leaders, associations and chambers of commerce who believe that an efficient, effective and safe highway system is essential to South Carolina's continued economic growth and social progress.
The Alliance has implemented several educational campaigns, including "Drive for Tomorrow", which resulted in the last increase in the motor fuel user fee in 1987. In 2005, the group's "Danger Ahead" campaign helped to restore $78M in diverted highway funds back to SCDOT and the State Infrastructure Bank.
Currently, the Alliance has undertaken an ongoing Social Media campaign utilizing Facebook, Twitter, and a campaign website at www.fixscroads.com, designed to bring the public into the transportation infrastructure discussion in ways that were never possible before. With the Spring 2014 "SC Roads are " campaign, the Alliance saw tremendous response across the state in comments, pictures, surveys, and even a letter campaign to the Governor. 2015 will see a re-launch of this campaign with an even more in-depth interactive set of features for South Carolinians to become involved in making our transportation
Highway funding in South Carolina comes primarily from the 16.75 cents per gallon motor fuel user fee, which was last increased in 1987 and has never been adjusted for inflation. Across the Southeast, 51% of state source highway funding is derived from sources other than fuel user fees. In South Carolina, close to 90% of the state highway fund comes from motor fuel user fee revenues.
While the State's user fee is the lowest in the Southeast and the third lowest in the nation, the South Carolina state highway system is the fourth largest in the nation at 41,429 miles. This is 63%, or two-thirds, of the public miles in the State and over three times higher than the national average of 19%.
North Carolina and Georgia are our primary competitors for both economic development and tourism. If we continue to ignore our transportation infrastructure, we will lose out to our sister states. Congestion and crumbling highways do not attract visitors or businesses.
In order to maintain a safe and efficient transportation infrastructure, the South Carolina Alliance to Fix Our Roads continues to advocate for adequate highway funding. The Alliance believes that it is important that the General Assembly funds these critical needs.
Join the movement to fix our roads. For more information, including current members, please visit www.scfor.org or www.fixscroads.com or call Bill Ross, Executive Director, at 803.315.2731.