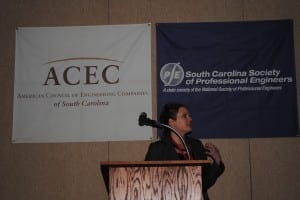 Sara McCartha, Office of Advice Counsel for SC LLR, was one of the keynote lunch speakers at the ACEC-SC/SCSPE Winter Meeting. She covered the legal process of the SC State Board of Registration for Professional Engineers and Surveyors.
McCartha received her B.S. from Clemson University and her J.D. from the University of South Carolina School of Law. After finishing law school in 2006, she worked as The Honorable James W. Johnson, Jr.'s law clerk in 2006-2007, and then as an Assistant Attorney General from 2007-2012. Since joining LLR, she has enjoyed providing in-house advice to many of the professional licensing boards.
She also represents client boards on an appellate level in licensing matters, coordinates outside litigation, and represents the agency in regulation hearings. Additionally, McCartha serves as a member of the legislative team, where she assists the boards with statutory and regulatory matters on a state, and occasionally national, level. She has served as primary advice attorney to the Engineers and Land Surveyors since January 2013.