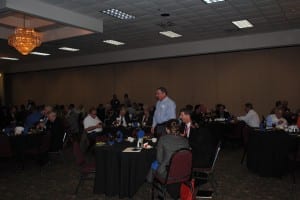 The American Council of Engineering Companies of South Carolina and the South Carolina Society of Professional Engineers held the 7th Annual Winter Meeting Feb. 26, 2014 at Seawell's in Columbia.
Engineers had the opportunity to receive 6 Professional Development Hours in the business or environmental tracks. The Keynote address was given during lunch by the SC State Board of Registration for Professional Engineers and Surveyors chair, administrator and legal counsel.
The Winter Meeting began with an update from each group's presidents followed by the Executive Director's Report by Joe Jones, ACEC-SC/SCSPE Executive Director. Attendees then chose whether they wanted to attend the Environmental Track or the Business Track.
The Environmental Track covered the following topics:
• Current Trends in the South Carolina Mitigation Marketplace
• Clean Water 2020
• Permit Central & Triennial Review
• Stormwater and the Water Quality Mapping Tool
• Jurisdiction Topics: Borrow Pits and Stormwater Ponds
The Business Track covered these topics:
• Business Systems and Project Management – Keys to Your Financial Success
• Business Development – How to Keep the Project Pipeline Full
• Finance – What Leaders Need to Know
• Mergers and Acquisitions – the Good, the Bad and the Ugly
• Leadership Development
The Lunch Keynote Address was An Update from the SC State Board of Registration for Professional Engineers and Surveyors with Timothy W. Rickborn, Chairman, Lenora Addison-Miles, Administrator and Sara McCartha – Office of Advice Counsel for LLR. The group updated attendees on engineering statistics.