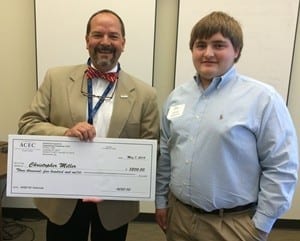 The recipient of the 2015-2016 ACEC-SC Student Scholarship this year was Christopher Miller. This fall Christopher will be entering his junior year at the University of South Carolina where he studying Civil Engineering. Christopher had been living at home in Sumter, SC and commuting to school every day and working at the local IGA 20 hours a week, all the while maintaining a 3.70 GPA.
Christopher also found time to volunteer for the Opportunity Scholars Program (OSP) at USC Sumter. This program helps new students adapt and adjust to college life. He is also a member of the Woodmen of the World, Sumter Chapter, where he helped gather over 5,000 cans of food for United Ministries, and he has participated in Boy Scouts of America helping with the Palmetto Pride "Adopt a Highway" program.
We wish Christopher continued success in his endeavors both academically and in through community service.
This year's recipient of the Member Firm Scholarship is Edgar McIntosh. Edgar is employed by ECS Carolinas, LLP. He graduated from Clemson University in 2013 with an undergraduate degree and 2014 with his Master's degree. He is involved with all aspects of the geotechnical consulting profession, including preparing proposals, coordinating services, generating reports, providing evaluations, project budgeting to name a few.
Edgar has taken and passed the PE exam and is gathering his experience toward gaining his PE license. He is a member of ASCE, ASCE Young Members, Future Construction Leaders of the Upstate, AIA and Chi Epsilon.
We wish Edgar continued success in his professional life.