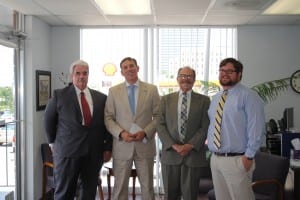 The ACEC-SC PAC made early contributions to legislators with opposition in the June primary elections.
Showing early support to legislators that have helped ACEC-SC and the engineering community during the last session and before were Rep. Kenny Bingham, PE, (R-Lexington), Rep. Nelson Hardwick, PE, (R-Horry), Rep. Todd Atwater (R-Lexington), Rep. Grady Brown (D-Lee-Sumter) and Rep. Mike Forrester (R-Spartanburg).
ACEC-SC PAC expects to make more contributions before the November General Election to supporters. The ACEC-SC PAC goal for contributions from ACEC-SC member firms and employees is $30,000.
Also, the ACEC PAC made a $2,500 contribution to Congressman, James Clyburn (D-Sixth District). ACEC-SC members made the national PAC goal for South Carolina earlier this year; in fact ACEC-SC was the second state organization to reach its national goal.