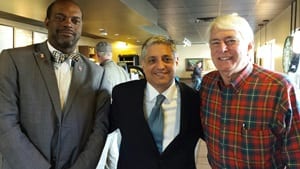 ACEC-SC PAC Trustees delivered checks to SC House of Representatives candidates this election cycle. All recipients won their elections.
The PAC contributions were made to legislators who have supported engineering efforts in the past and to legislators who sit on strategic committees that deal with engineering and infrastructure issues.
Sixty-five PAC checks were delivered to the following individuals:
House Leadership — Nelson L. Hardwick, PE, Chair Agriculture & Natural Resources Committee, Kenny Bingham, PE, Chair Ethics Committee, Gregory Delleney –Chair Judiciary, Brian White – Chair Ways and Means, and Todd Rutherford, Chair Minority Caucus
Labor Commerce and Industry Committee — Carl Anderson, Todd Atwater, Nathan Ballentine, Eric Bedingfield, Bill Bowers, Grady Brown, Kris Crawford, Shannon Erickson, Mike Forrester, Mike Gambrell, Deborah Long, Phillip Lowe, David Mack, Joe McEachern, Dennis Moss, Mike Sottile, and Mac Toole
Ways and Means Committee– Rita Allison, Michael Anthony, Dr. Jimmy Bales, Bill Clyburn, Gilda Cobb-Hunter, Jackie Hayes, Bill Herbkersman, Lonnie Hosey, Chip Huggins, Chip Limehouse, Dwight Loftis, James Merrill, Joe Neal, Michael Pitts, Gary Simrill, Gary Smith, Murrell Smith, Leon Stavrinakis, and Bill Whitmire
Agriculture & Natural Resources Committee — Bill Chumley, Heather Crawford, Heather Ammons, Bill Crosby, Chandra Dillard, Kirkman Finlay, Wayne George, Stephen Goldfinch, Kevin Hardee, David Hiott, Bill Hixon, Kenneth Hodges, Patsy Knight, Steve Moss, Mandy Powers Norrell , Shannon Riley, and Edward Southard.