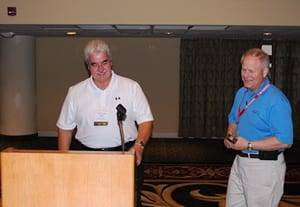 ACEC-SC's officers and directors were installed at the June 17 Annual Meeting on Hilton Head Island by ACEC Vice Chair, Randy Neuhaus.
2014-2015 Chair is Mr. Joe Greenburg, PE, Anderson, Vice-Chair is Mr. Tom Jordan, PE, Greenwood, and Secretary/Treasurer is Mr. Rick Fauteux, PE, Charleston.
Board members are Kent Alexander, PE, Myrtle Beach, Jeff Burkett, Lexington, Derek Clyburn, PE, Greenville, Tom Haselden, PE, Columbia, Kylie Page, PE, North Charleston, and Melvin Williams, Charleston.
The two ex-officio board members are National Director, Larry Hargrove, PE, Charleston and Immediate Past Chair, Don Freeman, Columbia.
ACEC-SC firms represented on the board are, Davis & Floyd, Inc. (Jordan), Design South Professionals (Greenburg), ESC Carolinas, LLP (Clyburn), HDR (Fauteux), Mead and Hunt (Burkett), Rowe Professional Services, Co. (Alexander), S&ME (Williams), Terracon (Page) and URS (Hasleden). Ex-officio member Hargrove is with Life Cycle Engineers and Freeman is with Parish and Partners.