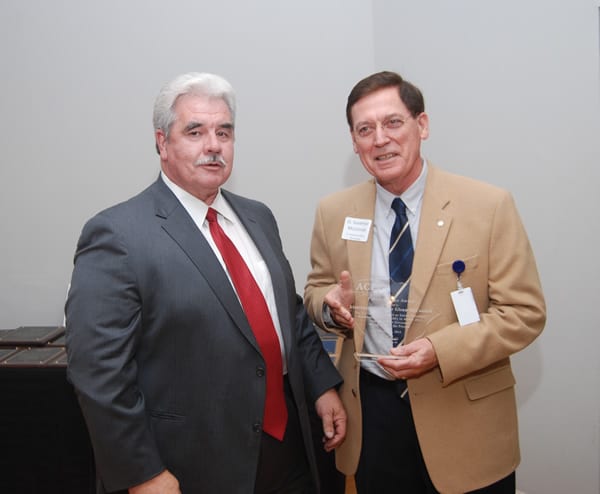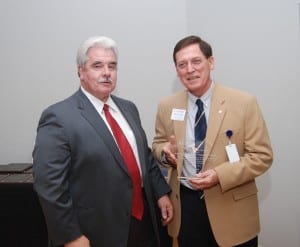 Lt. Governor, Glenn McConnell, received the 2013 ACEC-SC Public Service Award at the annual Engineering Excellence Award Gala at the Columbia Art Museum Feb. 4, 2014.
ACEC-SC President, Don Freeman, presented the award and said, "I am pleased to honor our Lt. Governor this evening with the 2013 ACEC-SC Public Service Award. By the way, Mr. McConnell was an EEA judge in 1990."
The American Council of Engineering Companies of South Carolina periodically honors public servants and others outside the field of consulting engineering with its Public Service Award.
Lt. Governor McConnell has served our state, including the engineering community, as a leader in the Senate. He became the most powerful state senator in South Carolina in 2001 when he was elected the first republican president pro-tempore. In that position, he created an atmosphere of non-partisanship and mutual respect in the Senate.
As a back row, freshman Senator, Mr. McConnell realized he needed an edge; so, he made audio recordings of the Senate Rules, which in the last Legislative Manual was 61 pages long. As he drove to and from Charleston to the State House, he listened to these rules numerous times and became very familiar with them.
More senior senators soon realized Senator McConnell was one to be reckoned with. Thus began his rise in the Senate. Of course this knowledge had to be accompanied with his ability to work with his fellow members, both democrats and republicans.
One of the many ways Mr. McConnell has been an ally to engineers occurred in the 1980s. At that time, there was no statute of limitations for engineers, architects, surveyors and contractors. Senator McConnell played an important role, along with Senator Leatherman, to finally get a statute of limitations through the Senate.
Just a few years ago, while President Pro-Tempore and Chair of the Judiciary Committee; he helped lower the statute of repose from 13 years to 8 years.
After 21 years working within the system, in 2001, Mr. McConnell was elected President Pro Tempore of the Senate and also, held the Chair of the powerful Judiciary Committee. In that position, he guided senate activities and thus state laws for the next 11 years. Then, due to his strong commitment to the State Constitution and public service, Mr. McConnell, followed the succession of office and was sworn in as Lt. Governor upon the resignation of former Lt. Governor Ard.
A public servant who has lived by principles and his commitment to further our great state, Mr. McConnell is most worthy of ACEC-SC's Public Service Award. South Carolina is fortunate for this statesman; ACEC-SC is privileged to bestow its highest honor upon him.