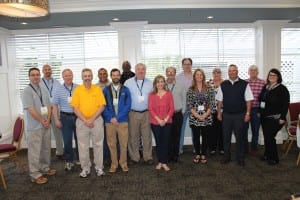 Chair Elect, Tom Jordan lead the 2015 ACEC-SC Planning Retreat at the Fripp Island Golf & Beach Resort, March 13-15. Jordan's goal for the retreat was to determine what ACEC-SC can do next year to add value to its member firms and for their employees.
Attendees worked in small groups and discussed diversity, advocacy, participation and encouraging future leaders.
In addition to several hours of planning work Friday and Saturday, two dinners were scheduled. Saturday evening Jordan hosted a Frogmore Stew social at a beach house on the island.
Chair Elect Jordan will update the membership at the Annual Meeting in June on ACEC-SC's future plans. Needless to say, increasing membership is on the agenda as is improving the popular future leader program, increasing ACEC-SC's legislative activity and continuing the scholarship program.