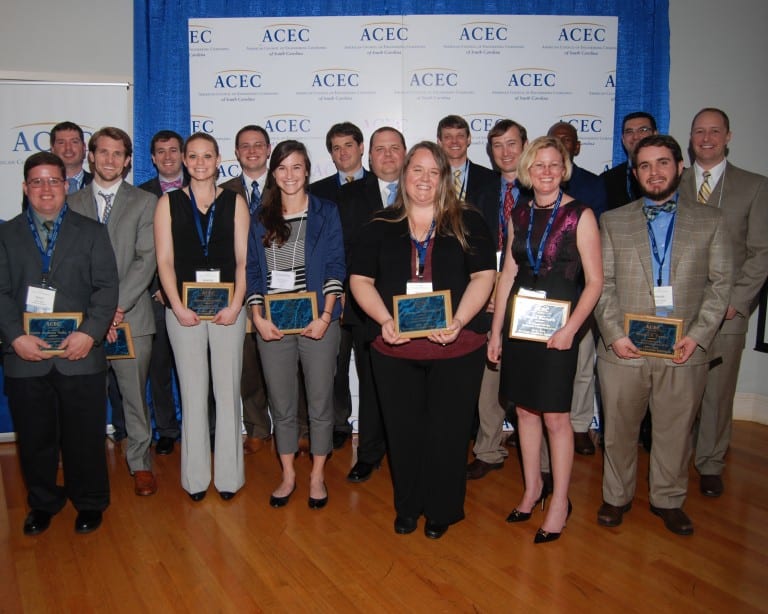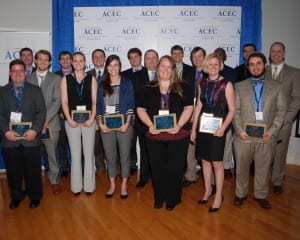 ACEC-SC Future Leaders recognized at ACEC-SC Engineering Excellence Gala on February 2, 2016. ACEC-SC Future Leaders' goal is to grow today's engineers into tomorrow's engineering leadership. After six sessions, ACEC-SC Future Leaders were recognized at the ACEC-SC Engineering Excellence Awards Gala at the Columbia Museum of Art.
In order to achieve ACEC-SC's mission, we must provide programs to the membership that will improve their business operations. ACEC-SC's third class of Future Leaders is another step in fulfilling our mission. This year, under the leadership of Kylie Page, Terracon, ACEC-SC Future Leaders Program explored concepts and means by which both personal learning and business performance may be increased.
This year ACEC-SC has 20 Future Leaders from 15 different member firms. This year's Future Leaders are:
Daniel Atkinson, Michael Baker International
Tripp Barrineau, Keck & Wood, Inc.
Jeremy Bristow, AECOM
Bradley Cain, KCI Technologies
Mitchel Cooper, STV Inc.
Michael Davis, AECOM
Jason Duncan, Terracon
Amanda Hawkins, Michael Baker International
Ryan Hounshell, Holt Consulting Company, LLC
Daniel Koehler, Rowe Professional Services Company
Christina Lee, Terracon
Shanna Niswonger, Michael Baker International
Ray Spence, CDM Smtih
Brandon Stokes, HDR
Thai Trinh, Johnson, Mirmiran & Thompson
Lee Tupper, HDR
Kevin Vello, Collins Engineers
Lauren Warmuth, Infrastructure Consulting & Engineering
Todd Warren, Davis & Floyd, Inc.
Nick Williamson, Kimley-Horn & Associates
The ACEC-SC Future Leaders face the following objectives:
• Increase personal knowledge and skills, business acumen, and awareness of the environment in which they practice.
• Develop a greater self-reliance and confidence based upon a deeper understanding of themselves, the business of engineering and the Social, Technical Economic, Political Context in which they, their clients, and the public operate.
• Develop a commitment to life-long learning and be more aware of and inclined to act on their curiosity about themselves and their world.
•Clarify what matters to them and their business so that compelling visions, goals & strategies emerge.
• Develop a strong peer network as a resource of the future business challenges.
• Develop role models for the next generation of leadership in the engineer profession affecting their firms, their associates, and their communities.
ACEC-SC looks forward to seeing these future leaders as the progress with their companies. Future Leaders are urged to stay plugged in to ACEC-SC by joining committees, coming to meetings, and participating in ACEC-SC functions. Congratulations to this year's class of Future Leaders, may they find success in all of their endeavors.