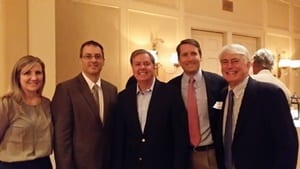 ACEC PAC, the national political action committee sent checks for the two US Senators and three Congressmen running for re-election for ACEC-SC members to deliver.
ACEC-PAC was an event sponsor for both Senators Lindsay Graham and Tim Scott. Congressmen Jim Clyburn, Tom Rice and Joe Wilson were also presented ACEC-PAC checks.
ACEC-SC members contributed thousands of dollars to the ACEC-PAC. In fact South Carolina was the second state to reach its national PAC goal. Former Chair, Jerry Carter, is the national PAC representative. He is responsible for raising ACEC PAC funds in South Carolina.