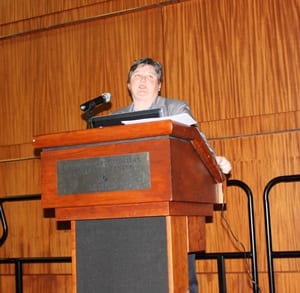 David Taylor, ACEC-SC/SCDOT Annual Meeting Co-chair and, ACEC-SC Transportation Committee Chair said the 2015 ACEC-SC/SCDOT meeting was another success with high attendance, informative sessions, sponsorships and exhibitors.
Taylor of Stantec, Emily Swearingen of URS/AECOM and Melvin Williams of S&ME from ACEC-SC and Jamie Kendall from SCDOT formed the organizing committee this year.
The meeting was held at the Columbia Convention Center, which was a first for the annual meeting and a significant improvement over last year. The facilities, food, sound system, and logistics all worked well.
Attendance including consultants, DOT representatives, exhibitors and sponsors exceeded 350, a near record for the fall meeting. Taylor said, "Having a successful venue was key for this year's meeting and that was achieved."
He said the roundtable format for the morning session worked well with the questions being prepared in advance. That enabled the panel to provide worthwhile and comprehensive information.
Secretary of Transportation Janet Oakley, Christy Hall, Deputy Secretary for Engineering and Commissioner Mike Wooten were well prepared with their answers. Don Freeman did a great job as moderator.
All the technical sessions went well and were well attended. The procurement session by Ken Sersun was reported to be very informative.
Taylor said, "We were fortunate to have Dr. James Martin, Professor and Chair, Glenn Department of Civil Engineering, Clemson University as the lunchtime keynote speaker and he was dynamic and interesting."
The audience for the closing session did thin out a little due to travel needs, but was still a respectable crowd to hear Bob Thomas, FHWA Assistant Division Adminstrator and Christy Hall provide program overviews for FHWA and SCDOT, respectively.
Taylor said sponsorship was also good with 29 trade show booths, 17 Bronze Sponsors and three Gold Sponsors. The facilities for the exhibitors were in close proximity to the sessions rooms, so exhibitors had a lot of traffic. Thanks to all providing booths and sponsorship.