ACEC-SC Introduces Its New App!
Notices | December 8th, 2015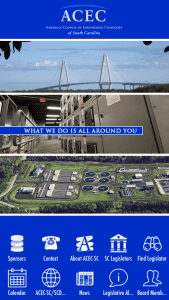 The ACEC-SC App Provides Up To Date Information On:
ACEC-SC Meetings
ACEC-SC Meeting Sponsors
ACEC-SC Calendar
News
Legislative Alerts
Contact Your Legislator
Contact Information
For Apple Products, go to the App Store and search ACEC-SC.
For Android Products, go to Google Play Store and search ACEC-SC.